ENGAGE YOUR SUCCESS
& SCHEDULE A FREE CLASS
Secure your spot and get started today with our EXCLUSIVE offer of a FREE first class to all new students!
By opting into the web form above you are providing consent for Focus Martial Arts to send you periodic text messages. Standard rates may apply. You can reply HELP at anytime or learn more. You may opt-out anytime by replying STOP.
DISCIPLINE & CONFIDENCE!
Build character and leadership qualities
Martial arts classes benefit growing children far beyond the dojo and in many real-world scenarios. Our structured classes are meant to help develop coordination, physical fitness, mental strength, as well as gain valuable social skills. Through positive reinforcement, we can bring out the best in your children to help them succeed in life.
VIEW OUR KID'S MARTIAL ARTS PROGRAM
Can't say enough wonderful things about Focus Martial Arts! Hands down the best extra curricular for our preschooler. Shihan is AMAZING with both the kids and their parents!
Alyssa Kennedy Disario
Love this school! Both my kids are enjoying their participation there. Awesome instructor and my kids love him. Well structured and highly disciplined programs. Strongly recommend this school.
Arafat Jahan
This was the best party ever. My 6 year old and friends had a great time, were fully engaged in all the games and activities. The decorations, attention to detail and excellent customer service. I had no idea what to expect and was completely blown away by Shihan Marco and his team. Thank you for such an incredible day!! I'd give more than five stars if I could.
Emily Williams
Great place to learn martial arts. My kids had their birthday party there and it was a wonderful experience!! The kids had a blast!! Big Thanks yo the team!
Katty Sousa
My son had his 5th birthday party here and loved it. It was stress free for me and fun for the kids. They gave all the guests and my son a free week trial and he just completed it. He loved it so much that we have officially enrolled in classes and he is beyond excited.
Laura Ramos-Brandao
The best art Marcial school ever!
I'm so happy and glad that my son it's in very good hands! This a family school!
Meire Rodrigues
I really love the Focus Martial Arts program. My son has been going there for several months and we can see so many positive changes. He is more confident and loves going to karate. The Sensei is amazing with the kids. Having 15+ 4-6 year olds can be a challenge to anyone, but this guy knows how to keep the kids focused. As an added bonus, he makes the class fun for parents to watch. I would definitely recommend Focus Martial Arts to anyone interested in their child learning karate, respect and having fun.
Mirka Wisniewski
Focus Martial Arts is a great place for the whole family to really learn martial arts. Great teaching from Shihan Marco and the rest of the staff. Huge training space . My wife, son and myself train there and we couldn't be happier there.
Vincent Zannino
We had our daughter's birthday party here and it was fantastic! Organized, professional and the kids had a blast. They have more than enough help on hand to assure the kids are safe while enjoying themselves. You pick out a theme and they take care of the decorations, cake/food and even prepare the digital invitation. In addition, our daughter attended a couple of the Saturday afternoon activities and had a great time. Thanks so much!
Tina Everberg Caamaño
I would highly recommend Focus Martial Arts my son Sean who is on the autism spectrum just came out of a class and he is more than ecstatic to come back. The teacher was very nice and engaging and took his time explaining to my son the multiple positions and moves during his one on one session. He was so encouraging and motivating to my son to keep going and to keep Focus during the class.
Chelsea Gordon Orben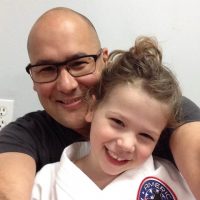 Our daughter, six, has been at student of Shihan's for over a year. She's now a yellow belt and excited to strive for the orange belt.
Shihan is terrific- he's kind but firm with a great sense of humor that keeps even the most easily distracted kids engaged.
Karate and Shihan have taught our daughter more than we hoped for- focus, patience, self respect, confidence, persistence, and much more.
Graham Honda
We literally left my daughters birthday party 5 minutes ago and I had to come write a review! They did absolutely fabulous at my daughters birthday party ! They knew all the kids names within minutes and put on great games ! We had so much fun ! Every kid said they couldn't wait to go back ! Thank you for a fabulous neon dodge ball party! I highly recommend them!
Kim Quigley
I'm very happy with the progress my son has made at Focus Martial Arts! His confidence has improved and his skills are so much sharper. Shihan Marco is highly respected by his students and they put in the work and focus he demands while still having plenty of fun!
Thanks so much Shihan!
Kristy Woznicki
I needed a place where my son could grow physically and mentally, a place that demanded respect. I was extremely impressed by Focus Martial Arts, look forward to many great years here.
Wilfredo Freddy Gonzale
I met a couple of people from Focus martial arts at another unrelated martial arts event. One of the instructors, who's name sadly escapes me, was helping my mum with her kata and being incredibly patient and helpful to her. It reflected very well on him as an instructor! Thank you for your help.
Lessy Trail
IMPROVE FLEXIBILITY, BALANCE, AND STRENGTH
Get fit while learning martial arts
Learn self-defense, build confidence, and get in the best shape of your lives! Martial arts has tons of physical, mental and social benefits, suitable for anyone and everyone. Become part of something positive and learn new skills from trained martial arts professionals. It's easy to get started—Enroll in martial arts classes today!
View Our Adult Martial Arts Program
Our latest from Instagram
Request Information
ACCESS OUR SCHEDULE & SPECIAL WEB OFFER!
Get started today with our EXCLUSIVE offer!
Request more information today to find out how you or your child can start training!
Get Started Today